THE DANDY'S ART OF LIVING
Discover all the nuances and pleasures of the Parisian Dandy's Art of Living in the enchanting Le Marquis boutique hotel, a stone's throw from the Eiffel Tower and the Champ-de-Mars.With the attention to detail of its furnishings, its precious care and its unique universe, this four-star hotel will conquer you like a character of the famous novelist Oscar Wilde. Get ready to be seduced by its charm...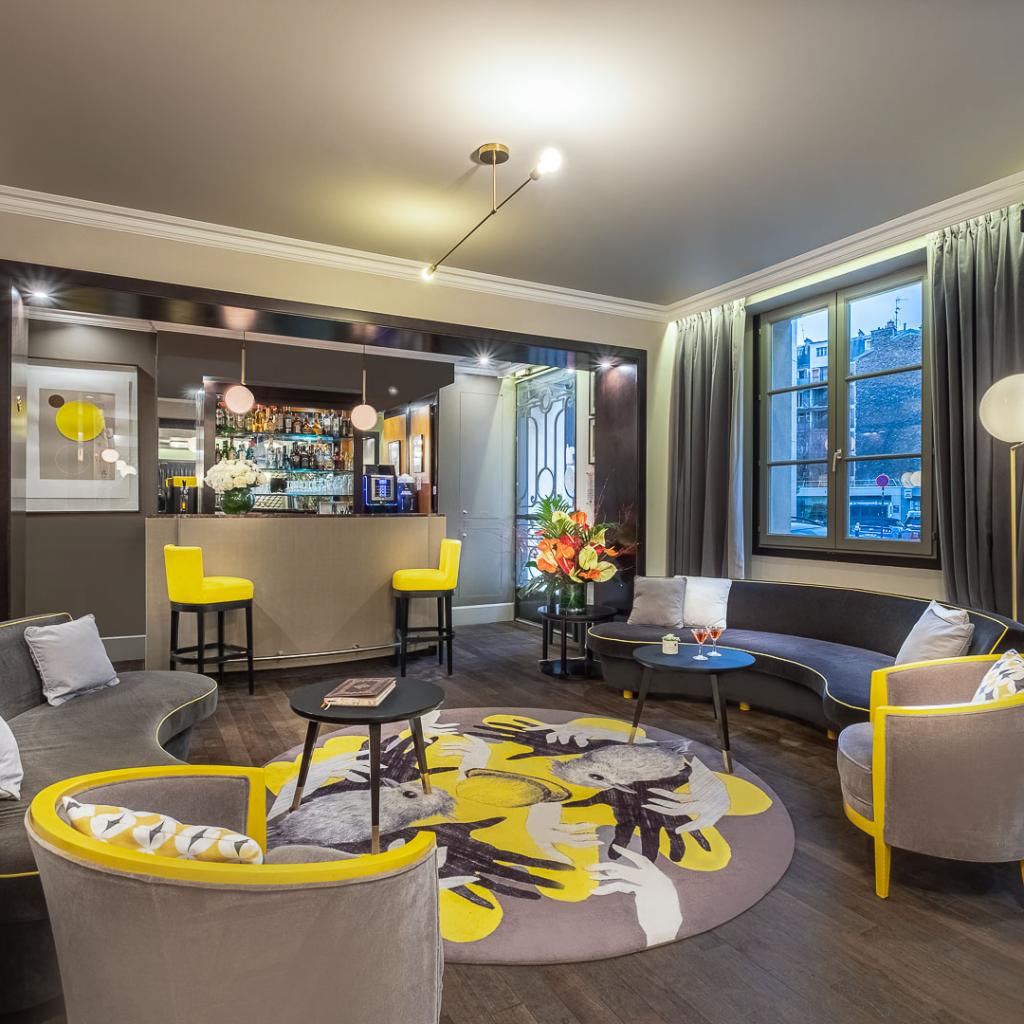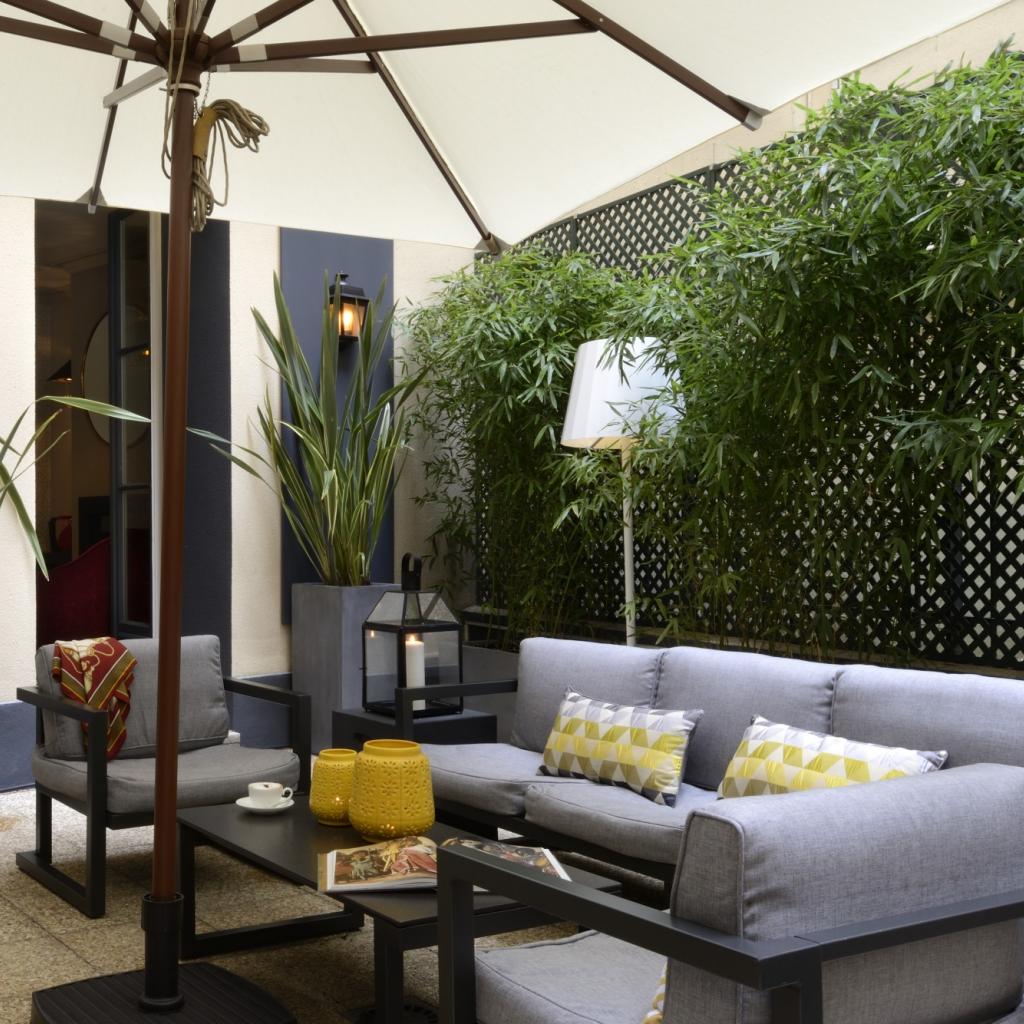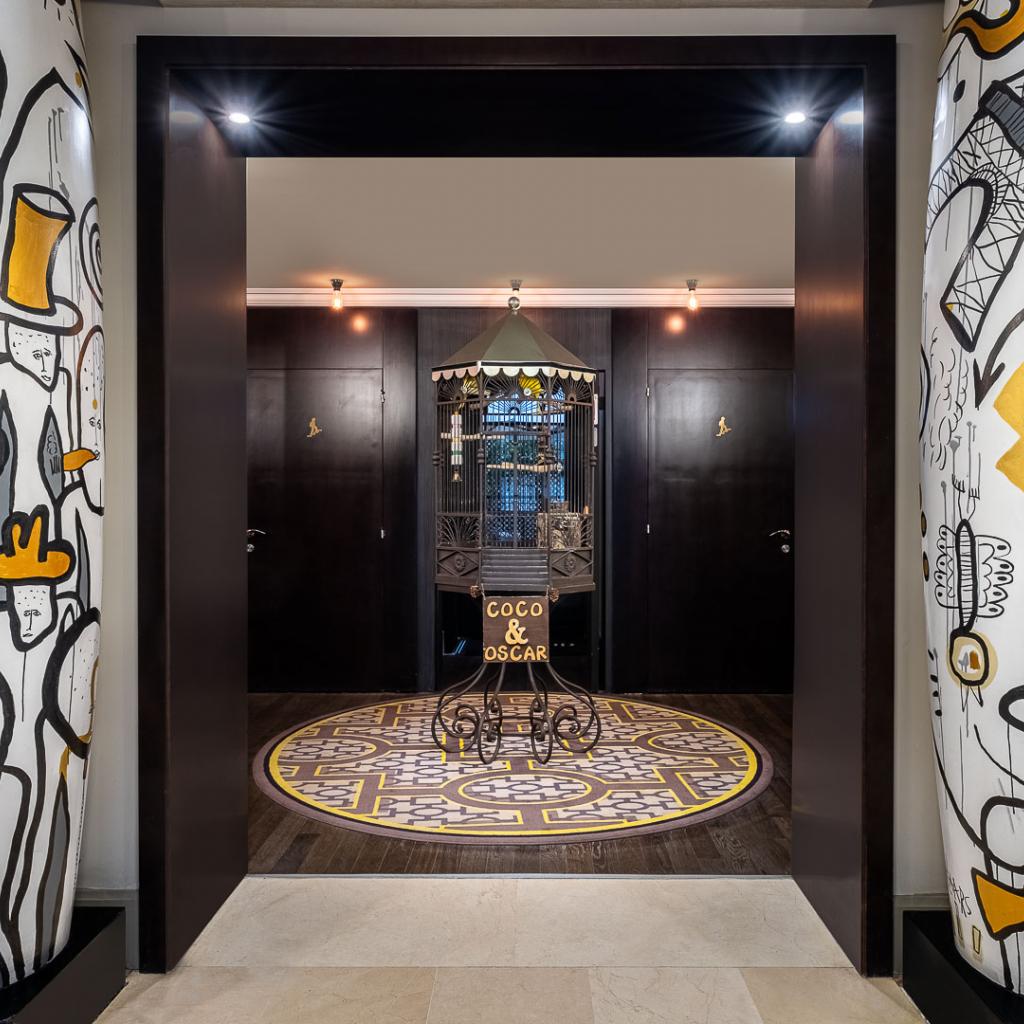 LE MARQUIS'
TAILOR-MADE SERVICES
BREAKFAST
Gluttony is not a sin at Le Marquis, and breakfast is the perfect example. A triumph of sweet and savoury delicacies will satisfy all your cravings at the generously stocked buffet.
BAR
Freely inspired by the English gentlemen's clubs, the Marquis bar is the ideal meeting place to laze around with an elegant cocktail. You will immediately be seduced by its modern and arty ambience.
INTERNAL GARDEN
A well-hidden treasure of the 15th arrondissement, Le Marquis' internal garden is a bubble of oxygen and nature immersed in the heart of the city. Its natural and elegant decor and its overriding tranquillity will not leave you indifferent.
ORIGINAL LOUNGE
Just like a warm and welcoming boudoir, the Marquis' lounge is the ideal place for relaxing in good company. Sitting comfortably in the red velvet armchairs, you can have a taste of the Dandy's dolce vita.
INTERNET CONNECTION
Stay connected at all times anywhere in the hotel: Le Marquis is equipped with free, unlimited Wi-Fi Internet access.
CONCIERGE
The best cabarets, great restaurants, exhibition-events... Paris is the city of every pleasure. Our staff will be happy to help you organise your ideal stay, to turn your holiday into a daydream.
ROOM SERVICE
Indulge all your cravings with Le Marquis boutique hotel's room service. The menu is packed with sweet and savoury temptations, all of which can be enjoyed comfortably in your room.
MASSAGES
A magical party night, long visits to museums, endless walks philosophising... A Dandy's life is rich and full of events. So, if necessary, treat yourself to a moment of well-being with our in-room massages, provided upon request for an extra fee.
BABY-SITTING
Take advantage of your trip to Paris to enjoy a privileged moment just for you in the capital of love. Le Marquis provides its qualified nannies to look after your children for an extra fee.
BATEAUX-MOUCHES
Paris tells its entire story from the Seine... Come and enjoy a breath-taking experience during a cruise on the Bateaux-Mouches!
CAR SERVICE WITH PRIVATE DRIVER
Every minute is precious... To take full advantage of all the wonders of Paris, let yourself be guided by our car service with private driver, for an extra fee, for your entire stay or just for a simple ride.
FAMILY SERVICE
The Marquis wishes to take care of all its customers, whether they're baby-dandies or an established Gatsby. High chairs, cribs and children's, play kits... We've thought of everything to pamper families!
LAUNDRY
The art of gallantry also involves a refined wardrobe and impeccable style. Le Marquis has organised a tailor-made laundry and ironing service to help make your outfits perfect.
PETS
All the friends of our Dandies are welcome at the Le Marquis hotel. However, a small fee of 30 Euros will be required for pets weighing over 5 kg.
TOURIST SITES
Thanks to its privileged location, in the heart of the 15th arrondissement, the Le Marquis hotel allows you to savour the city with the required calm, being just a few minutes from the main Parisian tourist sites such as the Eiffel Tower and the Champ-de-Mars.
LOVERS' REVIEWS
YANN
A hotel that we will never forget! Upon arrival we were pleasantly surprised by the attentive staff. The rooms are beautiful and comfortable. The garden is a real gem!
JULIETTE
The hotel is located in a quiet street, although it's just 5 minutes from the Eiffel Tower and the Seine, perfect for family travel. The neighbourhood is very nice and there are some excellent restaurants. We particularly appreciated all the little details for the children and the breakfast.
ÉRIC
So convenient! A trip to Paris can be tiring, but here everything is designed to make you rest and feel at ease, both in the common spaces and in the room. The service really is high-quality
DISCOVER OUR HOTELS AND THEIR ARTS OF LIVING
Each Inwood hotel reflects a 'savoir faire', an emotion or a state of mind which is expressed in the French 'Art de Vivre'. 'Art du Couturier, Art du Voyageur, Art du Partage, Art du Romantique…
See which one resembles you the most!
MERCI DE SELECTIONNER UNE DESTINATION